It's true that even after choosing the highest quality of stone, maintenance is a must. At times when it is a need-of-the-hour, usual cleaning methods do not yield the best of long lasting results. It is for this purpose that polishing becomes a necessity.
Polishing stone can be done in a variety of ways depending on your goals. This aspect is dependent on the colours of the stone too.
If you are looking to polish a new stone or restore the shine of an existing stone, you will likely come across a few questions. How should you go about polishing the stone? And most importantly, which are the best products that can be used to polish the stones?
If you are one of those who does pay attention to stone, you will know that it needs grooming every once in a while. This blog covers these questions as well as gives a recommendation of the best of products, so that you can make a well-informed decision about restoring or polishing your stone floors.
Magik Polish Powder has Your Back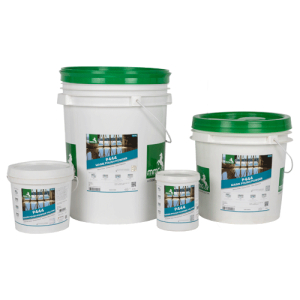 Magik Polish Powder is ideal for polishing marble, granite, and limestone as it restores the surface's original gloss while unifying its aspect by removing dull itchiness, watermarks, and surface scratches.
A great benefit is that the Magik Polish Powder is an easy-to-use product. All you have to do is mix it up with clean water in a 1:4 ratio, and then buff the surface with Magik Red Pad to achieve that finished, glossy look. The polishing powder for marble is also extremely adaptable to high temperatures and prevents any sort of moss and fungi growth on the surface. Its moderate hydrophobic property makes it wash resistant and enables for a longer period of glossy finish on your surfaces. A polishing powder like this surely does wonders for your floors without much of a fuss, indeed.
In addition to handling the stone with care, you must also be careful about its proper maintenance. In places where the powder might not be suitable, we have just the solution, quite literally!
Magik Crystallizer for the Ultimate Shine



Stone polishing can be a tedious process especially if you do not have the tools and/or knowledge of how to go about it. The stone is fixed in place and you cannot move it. For this, we recommend the Magik Crystallizer.
The Magik Crystallizer is a liquid that helps your stone surfaces achieve superlative shine. This is a versatile product that can be used to create a wide range of features and finishes due to its liquid nature. This polishing liquid can help you polish the stone surfaces on your property and restore their shine again. Using such a stone polisher is a good choice since it's not only effective but also retains the original value of the stone.
Might we also tell you that the product is super easy to use. All you need to do is clean the surface with a jet of water. Ensure that the surface is clean, dry, and dust-free. Using a hand sprayer, spray the surface with the Magik crystallizer. Then immediately wipe it with steel wool or a Magik red pad with a 180 RPM single disk machine until the Crystallizer is dry on the surface. Follow the same procedure as before for more gloss.
Alternatively, you might seldom need something handy yet effective to just DIY. Of course, we're not talking about the cleaning ka kapda here but something much, much better.
Polishing Pads for the Best Finish


When coupled with Magik Polishing Compounds, the Polishing Pads are like birds of a feather. They go very well together, complementing each other's features while you get optimum results. Trust us, you gotta go for it and try it out once!
When looking to furnish your home or office, you might choose a stylish granite, or marble. Here, a polishing pad might be an effective choice. Polishing with the Magik Polishing Pad provides excellent shine, hardens and protects your marble. It works great with just water with no other chemicals required. It is highly cost effective, has an anti-slip effect and is great at adapting with any machine. The best thing is that they are super convenient and extremely functional. This, in fact, helps you not only save time and effort but also achieve superlative finishes.
Polishing Guide in a Nutshell
Here is all you need to know about maintaining new stone and stone surfaces as well as what are the possible methods and best products you could use to get them shining! It might seem simple, but now you know what goes behind taking good care of your stone the right way.
If you want to take care of your marble or granite surfaces, Marble Magik Corporation has the best polishing compound you could possibly ask for. Our products are versatile and well-suited for any polishing application. Let us bring the magik to you! For the ultimate floor care solutions, check out our wide range of products on our website.