The living room is the most important room in any house because it's where you spend most of your time. It should be comfortable and functional, but also stylish so that your visitors have a good impression of your home.
Choosing the right wall tile designs for the living room can make an enormous difference in terms of both aesthetics and functionality. There are many different types of tiles available on the market today, which means there's no shortage of choices when it comes to decorating this space with wall tile ideas for living rooms.
If you want to redecorate your home to look new and fresh, you should read this blog to get some ideas for 2023's best living room wall tile design.
3D Wall Tiles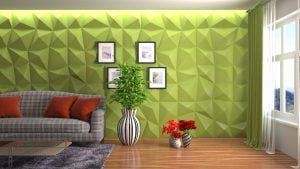 The use of 3D wall tiles is becoming more and more popular for the purpose of enhancing interior designs. It adds depth to your home and provides a new texture. 3D wall tiles are available in a wide range of designs, hues, and forms, so many homeowners incorporate them into their homes.
Walls are great canvases for you to decorate with some trendy 3D wall tiles. These tiles come in different shapes and sizes; however, most people prefer square or rectangular pieces because they can fit anywhere without any problems.
Wooden Wall Tiles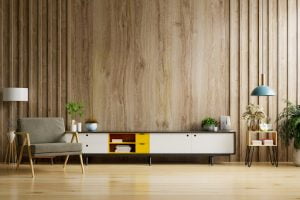 Wooden wall tiles design is much more popular today and is distinguished from other tiles by their striking visual appeal and long-term durability. It enhances your living room's appearance, is moisture-resistant, and is easy to clean.
The main reason for using wood wall tiles is their aesthetic value; however, there are many other benefits associated with this material as well. The most important benefit of using wood as a wall tile is that it can add warmth and character to any room in the house.
The surface of wood wall tiles can be smooth or textured depending on how it was processed during manufacturing. You can find them with grooves running vertically down the sides which help prevent water from pooling beneath them so that they remain dry even when exposed to humidity for long periods of time. 
Stone Wall Tiles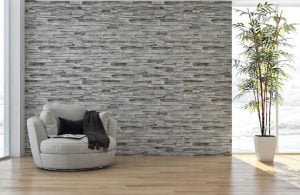 Although stone is a natural material, it can be used in many different ways. Stone wall cladding is one of the most popular ways to give a house a rustic, royal look.
A stonewall is one of the most popular ways to give a house a flamboyant look. It is the charismatic effect of stone tiles that adds character to your living room. Additionally, stone wall cladding provides excellent insulation and resistance to the elements at a relatively inexpensive cost.
Stone walls are durable and long-lasting if installed properly. They can withstand severe weather conditions such as wind and rain without any problems whatsoever — this makes them ideal for coastal regions where hurricanes are common occurrences during winter months
Monochrome Wall Tiles
The monochrome wall tile feature wall creates a dreamy focal point for your living room. All monochrome tile designs, some more subtle than others, create a timeless, elegant appeal; bold stripes, celestial squares, contemporary and clean, or chalky and soft.
The solid colour walls of this design style are perfect if you want to bring out the natural beauty in your home without distracting from it. The white background allows you to use any type of light fixture or lamp without worrying about clashing with the design element itself.
Monochrome tiles look great on their own or as part of an overall design scheme. They are also versatile enough to be used in living rooms where they can create a stylish and functional space with minimal effort.
Brick Wall Tiles
The brick wall has become a timeless classic and is a key part of many living room design trends. In addition to adding a sleek and modern touch to exposed brick, it also provides you with a wide variety of colour choices and designs.
Brick walls are popular because they add texture, contrast, and depth to any space. The best part about using this material in your home décor is that it's easy to install it yourself! Brick walls can be painted or left natural, depending on your needs. They are durable enough for even the most demanding homeowner but still require maintenance from time to time. As with any surface in your home, regular cleaning will keep it looking at its best for years to come!
Summing It Up!
Choosing the right wall tiles for your living room can be a daunting task, but with the right information, you can make an informed decision that will enhance the overall look and feel of your space. When it comes to modern wall tiles for your hall, the options are endless, but it's important to consider factors such as durability, ease of maintenance, and style when making your selection. Whether you opt for ceramic, porcelain, or natural stone tiles, be sure to choose the best tiles for the living room wall that will complement your existing decor and create a cohesive look and feel. With the right wall tiles, you can transform your living room into a beautiful and functional space that you will love for years to come.