Project Name: Sol Prodapt Solutions Pvt Ltd. Chennai, Tamilnadu.
Every time you begin work on a new project, you need to ensure that all contingencies are covered in advance for the project, for the best possible outcome yet. It is important to take care of the little things since these are the ones that matter the most in the long run. A befitting example of this is one of the projects that we undertook for Sol Prodapt Solutions in Chennai.
As it was a newly constructed IT Park in Guindy, which needed services set up, the primary aim of the project was to get the floors ready. This consisted of treating different surfaces with specialised chemical formulations to make an IT park look like a 5-star resort after the work was completed. Here is a brief about how we did it all. Read on to find out!
The project began with a detailed inspection of the requirements in order to achieve the parameters of sophisticated transformation. With an approximate area of 40,000 sq ft, the work of cleansing and polishing started initially. We also undertook the task of enhancing the appearance of the stone as well as stone sealing procedures wherever required.
How we made it happen
In order to enable next-generation technologies and innovations, Prodapt develops, integrates, and operates solutions. A number of global leaders rely on Prodapt's services, including AT&T, Verizon, CenturyLink, Adtran, Vodafone, Liberty Global, Windstream, Virgin Media, Rogers, Deutsche Telekom, among others. A global company with offices in Africa, Latin America, Europe, and North America, Prodapt employs more than 3500 people. Marble Magik Corporation had the task of maintaining the look, consistency and grandeur of the site. We made it a point to incorporate a prompt supply of material and ensure the application of the respective products.
In a duration of 25 to 30 days, our team was able to acquire the knowledge of the requirements, and began implementing the plan of execution while ensuring that we leave no stones unturned. Depending on the level, tasks were divided. We undertook an overall approach keeping in mind the materials used in the project as per its functionality instead of taking things step by step.
Here's how we did it with our extensive range of easy-to-use products!
Cleaners
Magik EGFR
A pH-neutral detergent, Magik EGFR eliminates oil, grease, bituminous stains, carbon dust, and anything else that is stuck to surfaces during construction processes. This product can remove cement stains and marker pen marks without damaging the surface's natural properties. Epoxy grout films formed during application can be removed from any surface with this product.
Magik Polish Cleaner
What's different about this product is that it's a pH-neutral detergent which removes dirt, wax, marker pen marking and cement residues from surfaces that often come along with the construction process. The best part? It does so without damaging the natural property of the surface!
Grouts
Magik Mastic Honey
Joint and crack filling is an important task when it comes to perfecting finishing. The Magik Mastic Honey helped to bind stone to stone effectively. Magik Mastic contains a blend of resin and nanofillers in a polyester base. The product is specially used for filling joints in all types of marble, granite, natural stones, and artificial stones. Furthermore, it is used to consolidate and grout stone.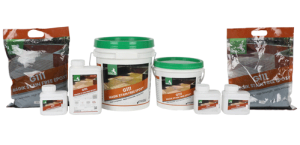 Magik Stain Free Epoxy
Construction should be completed to the very end, including protecting the surfaces from wear and tear. Water-cleanable and non-sagging, Magik Stain Free Epoxy is a solid epoxy mortar for filling joints in tiles and stone. The joint filling has to be highly strong, impact-resistant, and chemically resistant and this product is just perfect for that.
Magik MP Epoxy
An unsaturated polyester resin base liquid with low viscosity, Magik MP Epoxy is suitable for crack filling as well as joint filling on marble, granite, and natural stones. Consolidation of stones was a huge success because of what this product is capable of achieving.
Magik Colour Pigment
Colour pigments are used for filling coloured granite and marble surfaces to give them a more enhanced and finished look. With Magik Colour Paste, you can obtain the desired colour using the minimum quantity of UPR, epoxy, or PU resin. Using this upscaled the appearance of the surfaces.
Polishing Compounds
Magik Polishing Pad 17′ Gold
This product was extremely malleable to work with especially at a new site due to its nature of being adaptable with any machine. It readily works with water and leaves the surface shining new! This chemical, with a diamond-impregnated pad, gives excellent mirror gloss, hardens the floor and also protects the treated surfaces.
Enhancers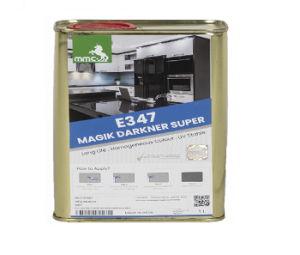 Magik Darkner Super
This is a dynamic product that we used to enhance the interior as well as the exterior surfaces in order to improve the appearance of old and worn out surfaces. With Magik Darkner Super, granite can be enhanced to look its best regardless of whether it's polished, stained, antique or rough. Surfaces both inside and outside benefit from its long-term effects.
Sealers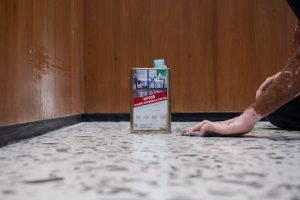 Magik Impregnator SB
Magik Impregnator is a water-based impregnator for polishing granite and marble surfaces. Due to its ecological formulation, it is able to protect surfaces from dirt, water, oil, and grease without changing their natural appearance or aspect. Moreover, it is compatible with humid or damp surfaces. With the goal of enhancing the overall appearance of marble and granite surfaces which were already cleaned, this product was rightfully utilised.
Special mentions
It was quite a pleasure working with the Prodapt team. Additionally, the area was clear for these tasks, which made it easier and more efficient for the team to work. The process we followed was optimally executed with minimal contingencies, which helped us with the smooth process. This project was a great opportunity for our team, given its extensive bandwidth and dynamic nature. We're elated to have accomplished this feat and our team at Marble Magik is proud of our achievement. All in all, this project was a great opportunity and we're ready for many more in the future!