If one had to list the most frustrating things that could happen to a habitable space, greasy and stained floors would be amongst the top. Spending lakhs of your hard-earned money on the choice of marble, granite and tiles, only to see the surfaces become sticky or dusty, is not a situation anyone would like to be in. These days, professional cleaning services charge an exorbitant amount of money to restore your tiles or stone to their long-lost glory, with limited success.
Fortunately, We have got you covered!
Be it dealing with Rust, Iron, Food, Water Scales, or anything in between and beyond, MMC has just the right floor care solution for you. Our intense R&D process has resulted in a host of solutions fit for removing stains on any surface, be it tiles, granite or marble. Our proprietary formulas give a clean finish to make your floor look brand new, irrespective of the industry you operate in or the reagent responsible for the stain.
Here are some of our trendsetting cleaners for the marbles segment
Magik Polish Cleaner
Dirt, wax, marker pens, or cement residues plaguing your fabulous floors? The polish cleaner has your back! This pH-neutral detergent shall restore your marbles to tip-top conditions in no time without causing any damage to your natural property.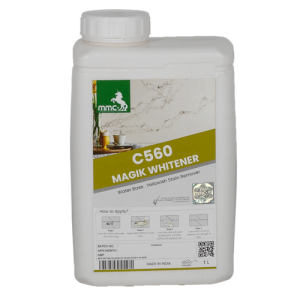 Magik Whitener
Have you ever given up on the stains because they just refuse to go? With a  heavy-duty acid-based formula that is useful for removing the yellow stains from your marbles, Magik Whitner has you covered.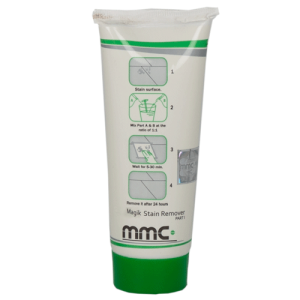 Magik Iron Stain Remover
This market-leading product has the unique ability to remove pesky iron stains from your stones. The alkaline-based paste creates a purple-colored by-product on application that can be safely and easily wiped off the floor.
Being a premier and trusted brand in the floor care segment, Marble Magik has a range of products covering a variety of surfaces. Here are some of our leading tile care solutions
Magik Granite and Tile Cleaner
A water-based acidic product that can be used to rid you of your woes when it comes to stains on non-carious surfaces like granite, tile, ceramic tile and concrete.
Magik EGFR
This product is recommended to remove excess epoxy grout films from various types of tiles. It is also capable of removing bituminous stains, carbon dust and any stickiness on the surface.
When it comes to caring for your floor, granite cannot be left behind. It is widely used in a plethora of industries and has been a great option available out there for granite surfaces. Granite surfaces are prone to being stained during construction and it is oftentimes a difficult task to remove those rigid stains. We want to assure you that we indeed have your back when you are searching for the ultimate care solution for granite surfaces.
Granite floors are the new vogue, combining class and utility in one powerful package. However, all this is laid to waste if the floor is not maintained with care.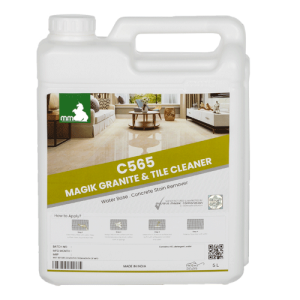 Magik Granite and Tile Cleaner
A product to clean non-carious surfaces like granite, tile, ceramic tile, concrete and surfaces resistant to acid.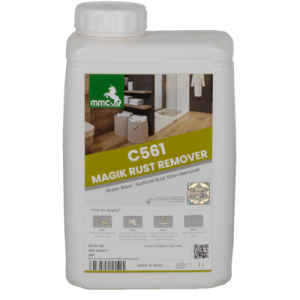 Magik Rust Remover
One of the leading formulations, this heavy-duty acidic formulation is used to remove ferric oxide stains as well as other metallic reddish brown marks that may or may not be created by rust.
All of the above products barely scratch the wide-ranging product portfolio of MMC. With over a decade of experience in the stone care space and exporting its products to more than 13 countries, you are in the safest hands possible when it comes to caring for your surfaces. So what are you waiting for? Let us bring the Magik to your floors! 
All you need to do is check out our wide range of cleaners to get the most effective and ultimate solution for any of your stone care needs.