---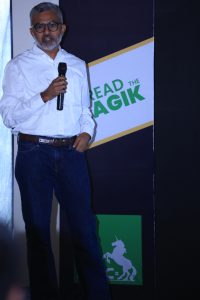 Indian brands that are truly innovative and favourable to their customers are indeed difficult to find. What they need is a pioneering idea that's accessible, easy to execute and solves problems in their true sense. Keeping all of this in mind, we came up with an idea that would solve stone care maintenance problems on-the-go and effectively. Of course, there were many things to be supervised to perfection, but that is exactly how we established Marble Magik Corporation –  a stone care solution brand completely made-in-India, keen in making accessible a wide range of stone care products to you. Our variety ranges from stone care chemical solutions, adhesives, polishing pads to building chemical supplements. Our inspiration began after the financial crisis in the year 2008, which resulted in an idea of creating unique stonecare solutions and incorporating them in an all-extensive brand. That is how Marble Magik Corporation came into being. Optimising a powerful Research and Development Board focusing on new ideas and inventions is MMC's commitment.
Our work in the stone care industry is inclusive and thoughtful according to what our customers need. For that we have created an extensive range of products that ensure effectiveness, convenience and long lasting results. We want to redefine stone care in India using the mechanisms of utilising the diverse solutions.
On 9th September 2008, Marble Magik Corporation was already a Registered Trademark in Gujarat but it is with the vision and experience of Mr. Pramod Salunke and Mr. Mital Patel, that made it possible to not only create something that's beneficially new but also that transcended their dreams into a reality. Pertaining to our true care and solutions we provide, we believe we are among India's top Stone Care Specialists. We combine our innovations with modern advancements to create a distinctive solution for you. The vital principle of providing the highest quality products and services is what essentially guides our vision.
Anecdotes of Our Emergence
Here's the foresight behind the emergence of our concept, of how we actually came into being. The creation of our brand was the visionary idea of Mr. Salunke and Mr. Patel. With the help of whom we have achieved the feat of skyrocketing our sales over the years. Starting from 2006, we've acquired the best stone care specialists and experts and have always made it a point to care about our customers and deliver what they need.
We believe and have consistently proven to be the perfect solution for all your stone care needs. Everything from cleaning your dirty stones to fixing a crack on them. In 2008 MMC took a foray into the Indian industries with a few distributors. Over the next few years, we constantly researched and analysed the needs and requirements of customers, thereby expanding MMC to more than 125 distributors nationwide.
In 2013, we stepped into a wider platform for our business, charting into international waters. We started exporting to 5 countries, and have now scaled to 13.
This legacy has been encapsulated into a corporation called Magik Shoppe since 2017. MMC – a 360 degree stone care solution provider had a showroom dedicated to a range of its products. A massive increase in sales led to the construction of 2 new warehouses in 2019, expanding production further. Additionally, we now have warehouses in Gujarat, Delhi, and Bangalore.
With each step forward, we have helped everyone concerned about how marbles are used in their homes feel more comfortable.
Getting to know The Stone Care Specialists
It is our pleasure to say that after delivering premium products and providing installation services, we have gained our customers' trust. We also facilitate continuous innovation and in-depth research to provide 360 degree superior stone care solutions. The 'Vocal for Local' initiative is something that we strongly support and encourage.
Our dream is to be the leading environmentally friendly company in stone care solutions which are Made-in-India products for the whole world to enjoy. With over two decades worth of experience in the stone care industry, we are truly 'Spreading the Magik', staying true to our motto.
We are the one solution to all your stone care problems. Our esteemed stone care specialists redefine how stones must be treated, keeping them sparkly and new.
The mottos of "Jode Dil Se" and "Spread the Magik" guide our business strategy, so we are able to ensure our customers that we work with passion and spread the right mix for a flawless and finished stone.
Throughout the years, we have gradually expanded our range of stone care products. Our current product line includes cleaners, enhancers, grouts, adhesives, polishing compounds and sealers.
MMC in a Nutshell
Marble is now widely used in homes, offices, and commercial spaces. The problem with marble is that it needs constant maintenance but it sure does make your house look more elegant and royal. Through the years, we have perfected the art of keeping stones as new as possible; be assured, we do care for your stones.
Browse through our website to know more about us and our wide range of stone care solutions.