Granite is one of the most beautiful and commonly used igneous rocks. Its uses entail kitchen countertops, floors, paving stone, curbing, staircases, etc. The sublimity of granite arises from its process of formation when numerous minerals come together under the act of environmental circumstances like pressure. Granite includes various minerals depending upon the geography such as quartz, K-feldspar, Na-plagioclase and micas.
When it comes to the outdoor areas of our house, we get to choose the colour of the natural stone. It is because of the nature of the usage that we choose the colour of marble, granite and other stones. For example, in a commercial area, most of the time it is a grey/black polished look that works, while in an upmarket residential area, it might be better to go with a lighter coloured polished granite.
Granite is the most frequently chosen material for kitchen and bathroom remodelling or estate renovation. Natural granite is preferred over man-made granite tiles and slabs because it is durable, easy to maintain and does not get stained easily. If maintained properly, it can last for many years. But the stone tends to lose its natural colour after a few years. This is why we at Marble Magik Corporation have come up with a list of 4 must-have products specifically designed to enhance the colour of natural granite. Read on!
How to Enhance the Colour of Granite?
Granite is a beautiful building material you can find in almost every house and office, but it has one big drawback, it can get stains and marks very easily. The problem is that most people think of granite as a decorative material, not a functional one. So, when it comes to choosing a polish, they start looking for the ones that make their granite look shinier than before, and that is the biggest mistake you can make. An artificial shine will only look good for a few weeks, and then you will see that it doesn't work well with the natural pattern.
What you need is a product that enhances the look of the granite and not just covers it up. Think of it as removing stains from a piece of cloth – you'd wash it instead of covering the stain with another cloth. For this, you must choose the product precisely. A bad choice could result in taking away the natural traits of the granite if you choose harsh chemicals. Read more about what sort of products are best for granite maintenance.
What Are The Different Options?
Water base polishing liquids are specially formulated to provide a high-quality, durable finish on marble and granite surfaces. They are designed to resist staining and fading and can be used on both indoor and outdoor surfaces. Water base polishing liquids are safe to use and easy to apply, and they provide a long-lasting, lustrous finish.
When the surface is wet, the colour darkens and drawing out of the colour occurs. This is due to the fact that the surface absorbs the water and the colour is being pulled out with it. The colourant is what gives the surface the colour and when it is wet, it is absorbed by the surface and the colour is pulled out.
Here's a list of some of our own products that do phenomenally when it comes to granite stone maintenance.
MMC has a fantastic range of natural colour enhancers for granite and marble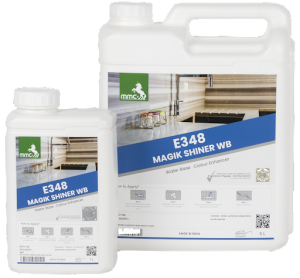 1.  Magik Shiner WB
The Magik Shiner WB is a water-based polishing liquid that works really well on granite. Specifically designed to be applied to polished and porous surfaces, it is a water-based wax emulsion. The application creates a durable and enhanced appearance on the surface, allowing easy future maintenance. Magik Shiner WB works extremely smoothly in large commercial settings. If you're looking for the best shiny granite surfaces, look no further than the Magik Shiner. It's durable, breathable and it's amazing!
2. Magik Darkner
Magic Darkner, a single component product, darkens and draws the colour out of a surface when it becomes wet. Additionally, the sealer enhances the surface of natural polish as well as rough surfaces. With superior water and UV resistance, this cure coating will provide great adhesion and durability. With a very good adhesion capability, the Magik Darkner makes the colour of the granite more vibrant. It is also VOC (Volatile Organic Cleaner) compliant which means that it reduces or eliminates static electricity when used. This right here is an excellent example of a water based enhancer that is surely bound to impress you.
3. Magik Wetlook WB
A unique water base product for natural stone, Magik Wetlook WB gives a matte colour effect without interfering with the pattern of the stone. Natural stone can be given a matte effect with Magic Wetlook WB while keeping its clarity intact. Stone looks permanently wet and glossy with this product. It has UV stability and also gives a mattifying effect to the granite surfaces. If you've got yellow stains or discolouration due to time, this is the product you need. All-in-all, perfect choice to get that rich and shiny wet look for your granite.
4. Magik Tough Coat
Magik Tough Coat is a two-part solvent-based system that offers unusual abrasion resistance and is ideal for parking situations or rough surfaces. It does a great job at stabilising surfaces for a matte as well as a glossy finish. The chemicals we normally use in household products are either alkali or acid-based, which do not damage cure coating. The cured film of the Magik Tough Coat provides excellent performance as it works well against abrasion. The product also shares the limelight due to its property of having excellent mechanical & chemical resistance. Your surfaces shall be well protected if you choose the Magik Tough Coat, for sure.
Binding it all Together
Marble Magik Corporation is your best bet for enhancing the natural look of your granite surfaces. Being the leading manufacturer of stone and floor care chemicals in India for more than three decades, we have been the preferred choice of brands across the country and beyond. Our products range from stone care chemicals, and adhesives to construction chemicals. Marble Magik Corporation is an India-born brand renowned in the stone and floor care industry. With our vast product range, we have set a benchmark in the stone care industry and have been able to meet the needs of customers.